More is shared in the book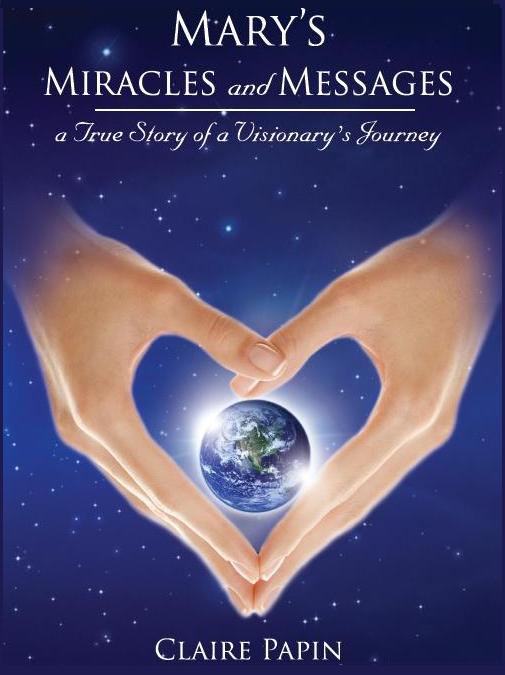 Click below to hear
Mary's Lullaby
© 1992
Mary's Lullaby
... the story of the song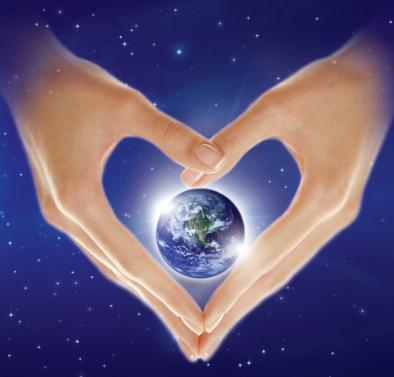 "Peace will stand. It will carry forth in humanity's efforts to aid the planet and help humanity. We must all remember that we are all One family under God who can choose to participate in the betterment of mankind and the quality of life." ~ Mother Mary
Many experiences have led up to the events I am about to share about Mary's Lullaby…starting with the night the song first came might offer a sense of the overall message from Mother Mary, and a sense of Hope in times of great change. The full version of this story can be found in my book "Mary's Miracles and Messages - a True Story of a Visionary's Journey."
In Joy!
One night, while curled up on my living room couch reading, I noticed it was getting late. As I got up to close the blinds before retiring to bed I was stopped by an intense feeling heralding an incredible presence in the room. I could feel a shift in energy that brought a tingling sensation, swirling light began to encircle me and a beautiful song began pouring from my lips, it was so beautiful that I was swept away in it's powerful peace and love. It was a song that I had never heard before. A message followed, heard both in the room and as an inner voice, "This song is a gift, a blessing, and a prayer."
At the same time, like a Technicolor TV screen, a vision flashed before me, and I saw people singing this song in their homes, from many places, and many walks of life. I saw them all at once, as if it were through the eyes of God. They were surrounded in the same kind of light that was encompassing me, and I could see past them, through their windows. Huge storms were raging outside, however, the people were in total peace inside...as if they had no concern about the massive storms. Their faith was strong; there was a joy about them, and love was beaming from their faces.
The message continued..."This song will be sung in many homes." I somehow knew the song would be recorded, and that the right people, place and time would come together for this to happen. Moments later the vision was gone, and I was left standing there in blissful gratitude. "Oh my God," was all I could say to myself. What I had seen, heard, and felt was beyond words.
As soon as I could gather my composure, I grabbed my tape recorder and quickly sang the song, so that I would not forget the words and melody. I had never written a song before; and this came from a whole different source beyond me. A heavenly presence had entered my living room that night, swirled around and through me, brought the nectar of love through the song from my lips, and flashed a vision of the future before my eyes. A gift had just been given, one that was not only for me, but for others who would also benefit from the reminder this song brings…a reminder that the peace and love we seek is already within.
A couple of days later, a friend of mine, who is a famous song writer, came to town for a visit. I wasn't quite ready to talk about my experience with anyone yet, but I did want to share the song. As I sang, he sweetly smiled at me and said "Claire, that song is a lullaby." It felt good to know the type of song it was, I just didn't know why yet.
A few days later it was time for the next prayer meditation meeting with a group of friends that I'd been gathering with once a week. The meetings had only been going on for a little over a month. I arrived just in time for this week's meeting to start. We began with prayer, moving into meditation and settling into a peaceful state. In that moment one of the ladies began to speak, she said that Mother Mary (the mother of Jesus) was present in the room with us, "She has a message, there is a song, and it's a lullaby, would that person please sing it."
My heart began to race. I thought to myself "I haven't mentioned this song yet to them, there's no way they could possibly have known this ahead of time." At that moment I could feel the same light energy build around me that I had experienced the night the song and vision first came. As I began singing, it felt like a strong pulsing heartbeat from the center of the universe came into my own chest, and then, in a single motion, the room was filled with blissful song and prayer. A bright light began swirling in and around me. I was once again in a space of deep peace and love, much like the first night the song came.
When the song was over, I braced myself for what was to come next. My friend's faces were all lit up, and glowing with smiles, each expressing a similar feeling of the experience. They told me that I should record the song, and that it was so beautiful and peaceful that it should be out there for more people. I shared with them what had happened the night the song first came, and that I was left with a feeling that somehow the song was going to be recorded, I just didn't know how, or when. We all stood in humble amazement of what had just taken place, a visitation from Mother Mary, and the beautiful gift of love she had brought to us. I would soon see everything I had been told come to pass.
The following week, a friend, CJ, called from Los Angeles to recommend that I read the book "Mary's Message to the World" by Annie Kirkwood. She didn't know that I had just purchased the book after one of my friends had told me about it from the meditation meeting. She wanted me to have the phone number of the author who lived in Dallas. CJ said, "You go to Dallas all the time don't you, maybe you should meet her." Now, this was getting more interesting by the day, "How did she even know to call me about this subject out of the blue?" I thought. I took the number, tried calling it, didn't get anyone on the phone, and put it aside. Before I knew it, about a week later, I was on my way to Dallas for some business.
While staying at a friends house, I showed him the book "Mary's Message to the World." He was astounded at the timing… "I just had that author on my radio talk show last week, I have her number, would you like it?" These two friends who gave me her number don't even know each other, and within a week of receiving the author's number, I got another "universal tap on the shoulder" to call her again. When I called, she answered the phone right away with a sweet hello. After a brief sharing about how much I enjoyed her book, I explained, "People keep giving me your number, do you have any idea why this might keep happening?"
She lovingly said that there was going to be a gathering the following week where an apparition of Mother Mary was expected to occur and invited me to join them. When that day arrived, about fifty people gathered expectantly on a clear, sunny day at Joe Pool Lake, just outside Dallas.

After a brief prayer and meditation, we saw the sun begin to spin, then split into two swirling suns. The children who were present saw Mother Mary appear while we all experienced a great wave of peace blanketing the area.
I saw breathtaking waves of rainbow colors spinning out from the sun. All I could do was stand in awe of the presence of miracles taking place before us. God wanted us there to receive a more solid knowing of the presence of Love that is continually and eternally here for us. Whether we see it and feel it, or not, it is always here.

As I returned home to Houston, all the way home I thanked God for the Love, and for the opportunity to be present for such a powerful confirmation of the miracles in our lives.
A month later I received a phone call from the author's husband, Byron. He asked me if I would be interested in being the voice of Mother Mary for the book on tape "Mary's Message to the World." It was such an honor to be asked to share, and a blessing to be of service. My bond with Mother Mary, by this time, had changed my life. Over the weeks, Mother Mary had been bringing messages to me in dreams, meditations, and sometimes even while taking walks. They ranged from locutions, which is like a telepathic communication, to luminous visions that would appear in the room. There was even a time when she appeared in a church accompanied by two angels in all her radiant traditional beauty. I could see an arching rainbow of light, almost like a bubble, around her and could also see the angels who accompanied her. There were many people there that night, quite a few of them took photographs while the visitation was in progress. I later discovered that the vision I had seen of Mother Mary that night, with the rainbow bubble of light, had shown up in one of the photographs as well.

It was an honor to be asked to serve by being a voice for Mother Mary and help in sharing her messages. When I asked Byron how he knew that I did professional voice-over work, "We didn't know that," was his reply. When Annie came to the phone, she said "Mary chose you Claire, just like she chose me." She continued "When I asked Mary who was to be her voice, she answered with "ask Claire." I accepted in humble gratitude to be a part of sharing the messages from the book.
On the third day, while recording the unabridged version of "Mary's Message to the World," after several hours of reading, my eyes began to tire and it was time for a short break. While sipping water and resting my eyes, I began to feel the strong presence of Mother Mary. She comes with a powerful sense of love that moves through me and around the room, much like a window that opens up, bringing a fresh breath of air, filled with the softness of rose petals and the warmth of a mother's loving arms. The words, "It is time to sing the song now" moved through me as a locution. The message lightly tapped me on the shoulder, like a gentle reminder of something already destined to begin its sojourn.
I confided to the producer who was still sitting in the engineering room that I had a beautiful song from Mother Mary, and asked him if he'd like to hear it. He said yes as he loaded a dat tape. Just as I began to take in a deep breath to begin singing, I could feel, and begin to see, more presences in the room. Now, joined by Mother Mary were Jesus, angels, and other heavenly beings. They filled the room with a luminous glow, the walls disappeared, and the light seemed to go on for eternity.
A tingling sensation began to build around me as I felt a resonance quickening in every cell of my body. Loving energy filled the room. I felt everything merge within me. As I began to sing, bliss filled my whole being. They were vibrating their love through the sound of my voice. Once the last word was sung, I could no longer see the presences, but I could still feel the echo of the blissful state of heaven that had just merged with this world. I sat in quiet reverence of what had just taken place. As I slowly peered through the window of the engineering room, I could see the producer and engineer gazing into the room, speechless. Although they couldn't see the apparitions, I could tell by their faces that they knew something profound had just happened. That day, the prophecy Mother Mary had given a month earlier - that the song would be recorded - was fulfilled.
Mary's Lullaby was added as a theme song to the book on tape, and was separately released as a musical meditation tape as well … so that "the song could be sung in many homes" as Mother Mary had said when she first brought the song.
There is one more event that I'm compelled to share … one that speaks to the miracles of the human Spirit. A few months after the recording of Mary's Lullaby, while traveling in the Texas hill country, a friend and I stopped in a little town called Marble Falls to talk to some realtors. While there, calls were coming in that a huge storm with incredibly strong winds, large hail and intense lightening was about to arrive. The receptionist was nervously heading for the door to move her car to shelter. I shared with her, "Did you know that you can be in the middle of a raging storm and still be protected?" "No, I didn't know that, how is it done?" asked the woman. "Through prayer" I replied.
As the woman exited, she smiled in relief, thanked me for the reminder, and said she would be back in a few minutes. Moments later the storm struck, the electricity went out in the tiny mobile home office, as the building began to rock. Standing in the dark, looking out the window, we witnessed a minimum of 60 mile an hour winds. No one in the room had ever experienced a storm that fierce in their town, and fear was escalating. "It's OK, everything will be OK," I reassured them. The others continued to lose confidence in their safety, so I spoke again, "We can stand here looking out the window, talking about how scary it is, or we can do something about it." "What's that?" they said doubtfully. I replied, "We can pray." They commented that it was a good idea, but were quickly distracted again by the heightened activity outside the window.
At that moment, I experienced the strong inner voice of Mother Mary saying, "Claire sing, and sing now." "Mother Mary, how am I going to do this when they are so frightened that I can't hold their attention?" I asked. She answered with the same words, "Sing, and sing now." So, I took a deep breath, and asked the others, "Would you like to hear a song?" To my amazement, they broke their fear-filled trance and replied, "Yes." They quickly gathered some chairs in a circle around me, and "Mary's Lullaby" poured forth while each one of them softened into a calm space. "That was so peaceful ... where did that song come from?" asked a lady. "You could say it came from heaven" I replied.
A moment later the storm stopped as suddenly as it had begun. Outside, we could see where the tornado had just struck directly across the street from where we were, and the whole town experienced tremendous destruction. National news reported the devastation. On that day, another one of the earlier visions that Mother Mary had shown me had manifested - the song was inspiring inner peace while storms raged outside.
Over the years I've been sharing these experiences at gatherings around the country. I have seen the awesome transformation that can occur when we open ourselves up to the miracles that happen daily. Our hearts reawaken, and our true spirit of limitlessness comes forth, no matter life's circumstances. Mother Mary has shared this message ... "Peace will stand. It will carry forth in humanity's efforts to aid the planet and help humanity. We must all remember that we are all One Family under God, and members of the human race, who can choose to participate in the betterment of mankind and the quality of life."
May it be in Love,
and may you always live in Love.